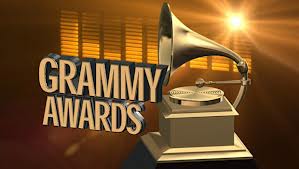 Un seul nominé Africain, Femi kuti qui malheureusement

 

une fois de plus n'a pas

décroché

le plus grand sésame de l'industrie de la musique. Malgré cela

 

les Grammy Awards ont tenu leurs promesses, du tapis rouge

à

La tant attendue prestation du couple Carter . Voici la liste de quelques vainqueurs…
ALBUM DE L'ANNEE :
 Daft Punk ,Random Access Memories
 DISQUE DE L'ANNEE :
 Daft Punk, "Get Lucky"
 CHANSON DE L'ANNEE :
 Lorde, "Royals"
 MEILLEUR ALBUM COUNTRY
 Kacey Musgraves, Same Trailer Different Park
 MEILLEUR ALBUM POP VOCAL
 Bruno Mars, Unorthodox Jukebox
 MEILLEURE COLLABORATION RAP/CHANSON
 Jay Z Featuring Justin Timberlake, "Holy Grail"
 MEILLEURE PERFOMANCE SOLO POP
 Lorde, "Royals"
 MEILLEURE CHANSON ROCK
Dave Grohl, Paul McCartney, Krist Novoselic, and Pat Smear, "Cut Me Some slack''
 MEILLEUR DUO /PERFOMANCE DE GROUPE
 Daft Punk Featuring Pharrell Williams and Nile Rodgers, "Get Lucky"
 MEILLEUR NOUVEL ARTISTE
Macklemore and Ryan Lewis
MEILLEUR ALBUM ROCK:
Led Zeppelin, Celebration Day
MEILLEURE PERFOMANCE METAL :
Black Sabbath, "God Is Dead?"
PRODUCTEUR DE L'ANNEE NON CLASSIQUE :
Pharrell Williams
MEILLEUR ALBUM MUSIQUE ALTERNATIVE:
Vampire Weekend, Modern Vampires of the City
MEILLEURE PERFOMANCE ROCK:
Imagine Dragons, "Radioactive"
MEILLEURE CHANSON ROCK:
Kacey Musgraves, "Merry Go 'Round" (Shane McAnally, Kacey Musgraves and Josh Osborne)
MEILLEUR ALBUM COUNTRY SOLO:
Darius Rucker, "Wagon Wheel"
MEILLEUR DUO COUNTRY:
the Civil Wars, "From This Valley"
MEILLEURE MUSIQUE FILM:
Paul McCartney, Live Kisses (Jonas Åkerlund, video director; Violaine Etienne, Aron Levine and Scott Rodger, video producers)
MEILLEUR VIDEO CLIP:
Justin Timberlake Featuring Jay Z, "Suit and Tie" (David Fincher, video director; Timory King, video producer)
MEILLEUR ALBUM BLUES:
Ben Harper With Charlie Musselwhite, Get Up!
MEILLEUR ALBUM RNB:
Alicia Keys, Girl on Fire
MEILLEUR ALBUM URBAIN/COMTEMPORAIN:
Rihanna, Unapologetic
MEILLEURE CHANSON RNB:
Justin Timberlake, "Pusher Love Girl" (James Fauntleroy, Jerome Harmon, Timothy Mosley and Justin Timberlake, songwriters)
MEILLEUR ALBUM ET PERFOMANCE RNB TRADITIONELLE:
Gary Clark, Jr., "Please Come Home"
MEILLEURE PERFOMANCE RNB:
Snarky Puppy With Lalah Hathaway, "Something"
MEILLEUR ALBUM POP INSTRUMENTAL:
Herb Alpert, Steppin' Out
MEILLEUR ENREGISTREMENT DANSE
Zedd Featuring Foxes, "Clarity"
MEILLEUR ALBUM ALTENATIF /ELECTRONIQUE:
Daft Punk, Random Access Memories
MEILLEUR PERFOMANCE RAP:
Macklemore and Ryan Lewis Featuring Wanz, "Thrift Shop"
MEILLEUR CHANSON RAP:
Macklemore and Ryan Lewis Featuring Wanz, "Thrift Shop" (Ben Haggerty and Ryan Lewis, songwriters)
MEILLEUR ALBUM RAP:
Macklemore and Ryan Lewis, the Heist
MEILLEUR ALBUM POP VOCAL TRADITIONEL:
Michael Bublé, to Be Loved
MEILLEUR ALBUM NOUVEL AGE:
Laura Sullivan, Love's River
MEILLEURE IMPROVISATION JAZZ SOLO:
Wayne Shorter, "Orbits"
MEILLEUR ALBUM JAZZ VOCAL:
Gregory Porter, Liquid Spirit
MEILLEUR ALBUM JAZZ INSTRUMENTAL:
Terri Lyne Carrington, Money Jungle: Provocative in Blue
MEILLEUR ALBUM JAZZ ENSEMBLE:
Randy Brecker, Wlodek Pawlik Trio and Kalisz Philharmonic, Night in Calisia
MEILLEUR ALBUM JAZZ LATIN:
Paquito D'Rivera and Trio Corrente, Song for Maura
MEILLEURE CHANSON GOSPEL COMTEMPORAIN:
Tasha Cobbs, Break Every Chain
MEILLEURE CHANSON GOSPEL:
Tye Tribbett, "If He Did It Before . . . Same God"
MEILLEURE PERFOMANCE ORCHESTRE:
Minnesota Orchestra, Sibelius: Symphonies Nos. 1 and 4 (Osmo Vänskä, conductor)
MEILLEUR ENREGISTREMENT OPERA:
the Metropolitan Opera Orchestra; the Metropolitan Opera Chorus, Adès: the Tempest (Thomas Adès, conductor; Simon Keenlyside, Isabel Leonard, Audrey Luna and Alan Oke; Luisa Bricetti and Victoria Warivonchick, producers)
MEILLEURE PERFOMANCE CHORALE:
Tui Hirv and Rainer Vilu; Estonian Philharmonic Chamber Choir; Sinfonietta Riga and Tallinn Chamber Orchestra; Latvian Radio Choir and Vox Clamantis, Pärt: Adam's Lament (Tõnu Kaljuste, conductor)
MEILLEURE CHAMBRE DE MUSIQUE:
Brad Wells and Roomful of Teeth, Roomful Of Teeth
MEILLEUR CLASSIQUE INTRUMENT SOLO:
Albany Symphony, Corigliano: Conjurer – Concerto for Percussionist and String Orchestra (Evelyn Glennie; David Alan Miller, conductor)
MEILLEUR CLASSIQUE VOCAL SOLO:
Maria Schneider; Jay anderson, Frank Kimbrough and Scott Robinson; Australian Chamber Orchestra and St. Paul Chamber Orchestra, Winter Morning Walks (Dawn Upshaw)
MEILLEUR COMPENDIUM CLASSIQUE:
Hindemith: Violinkonzert; Symphonic Metamorphosis; Konzertmusik, Christoph Eschenbach, conductor
MEILLEURE COMPOSITION COMTEMPORAINE CLASSIQUE:
Schneider, Maria: Winter Morning Walks, Maria Schneider, composer (Dawn Upshaw, Jay anderson, Frank Kimbrough, Scott Robinson and Australian Chamber Orchestra)